Published by UPI in December 3, 1980
Steam Locomotive to Be Retired
Sterling, Ill. (UPI) – The last continuously operating iron horse is being put out to pasture, marking the passing of another of the steaming marvels that opened the West.
In retiring the last of its freight-hauling steam locomotives, Northwestern Steel and Wire Co. ends a stubborn company tradition.
Northwestern, a steel mill sprawled along the banks of the Rock River, began using steam engines in its switching yards in the 1050's and has used them ever since.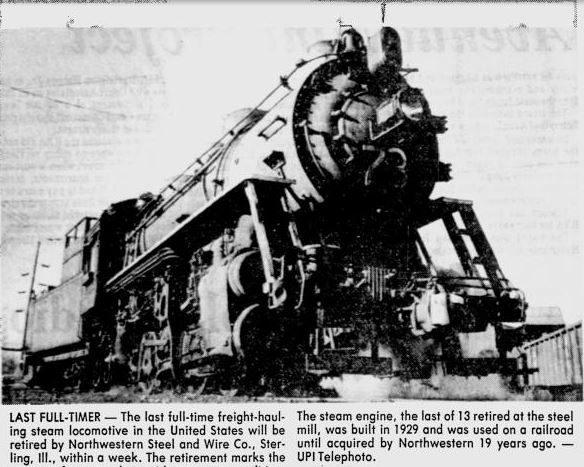 When most companies switched to diesel engines years ago, Northwestern's president – the late Paul W. Dillon – was a loyal steam engine buff who refused to follow the crowd.
But now, bowing to economic pressure, Northwestern has announced the last of its iron horses – a 100 ton, jet-black beauty called No. 73 – is being put out to pasture.
No. 73 was built in 1929 and worked for Grand Trunk Western Railroad until it joined the company 19 years ago. Its replacement diesel is to be on the line by Monday, when the proud, old steamer will join 13 other old-time locomotives in the company's iron horse pasture.
One of the locomotives will retire to a Sterling museum – the mansion of the late Dillon – but company officials are not sure what will happen to the others.
"We don't want to melt them down," a company spokesman said. "We are trying to find some good homes for them."
Only five of the old steamers are still in good working condition.
"This is the last of the grand era of steam," said Jim Boyd, editor of the Rail Fan & Railroad Magazine. He said Northwestern Steel and Wire was "the last continuously operating vestige of the steam era."
Boyd, an authority on the subject, said only one other company – Crab Orchard & Egyptian Railroad of Marion, Ill., – uses steam locomotives continuously for hauling freight. It originally used the engines as a tourist attraction but covered them to freight use in 1977.
"But none have the continuous freight operation that is the heritage of Northwestern," Boyd said.
The engines' retirement may be nostalgic to railroad buffs, but steel mill engineers are not sorry to see them go. Diesel engines will be easier to maneuver and repair, they said.
"Nostalgic? No as far as with work goes," said Gene Genslinger, who engineered 16 years before becoming general foreman. "Some people told me they would do my job for free. I said, 'Not for long!' We were broke down all the time. We fought 'em for years."